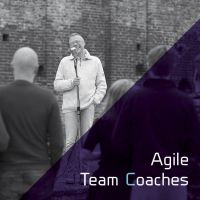 Our Scrum Masters coach the team members to a higher level, but it is also possible that several teams have to be pushed to a higher Agile level at the same time.
We employ Agile coaches who can guide you at:
Coaching multiple Scrum teams simultaneously in a Scaled Agile environment
Coaching Scrum teams
Coaching Scrum Masters
Guiding an organization through the transition from more traditional working , to Agile.
Our Agile Coaches are LESS, Nexus and / or SAFe certified.
To the overview