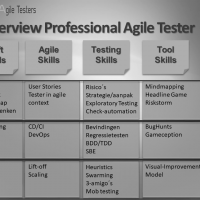 Almost any company is Agile or is considering becoming Agile. Agile is essential for being flexible, in collaborating with the customer, respond to a changing market and constantly changing customer wishes. Scrum is often the first step to do this. Return to shorter iterations, less production costs, more manufactured products and better manufactured products. Who doesn't want that? Good working and tested products is of course easily said, but how are you going to do that? It presents teams with major challenges. We do not know everything in advance that we have to change and we also develop new things. Building software is research and development: in small steps, with the customer, discover what works best. In the Professional Agile Tester training you learn to act successfully within a skilled team. In this modular course you learn all important principles about quality and testing in an agile context.
After this foundation training:
You have insight into the basic principles of agile working and Scrum

You know what the role of a professional agile tester is

You have insight into the soft skills that are essential to be part of a multidisciplinary team and to collaborate effectively with developers, analysts and product owners

Do you know how you can discuss and map risks?

Can you prepare an agile test strategy?

You know what exploratory testing is and how you can do it

Learn how to organize and plan exploratory tests

You can write, review and test user stories
Who is this training for?
Everyone who has to deal with testing in an agile environment: think of Scrum Masters, Product Owners, testers, developers, analysts or test managers.
Recommended prior knowledge
The Professional Scrum Master course is a good start, but not necessary. No experience at all with Scrum? Read the Scrum Guide carefully. Knowledge of and experience with testing software is very useful.
Setup of the training
Our experienced trainers teach you the essence of testing in an agile context. The training courses are hands-on and we use experiential learning. In our training you test real software, you learn under realistic pressure, in real situations. Experiential learning means that you participate in simulations instead of sitting still and watching a slideshow. A thorough debrief of what happened during the exercises is an essential part of the training. During the debriefs you learn from the teacher, the other participants but especially from yourself.
The training consists of 4 parts that are covered:
Soft skills

Agile skills

Test skills

Tool skills
We have 3 levels:
Foundation

Advanced

Expert
Because the training is completely modular, the group receives the most suitable training.
Program
The diagram below provides a possible interpretation. The actual interpretation strongly depends on the participants present and their learning objectives.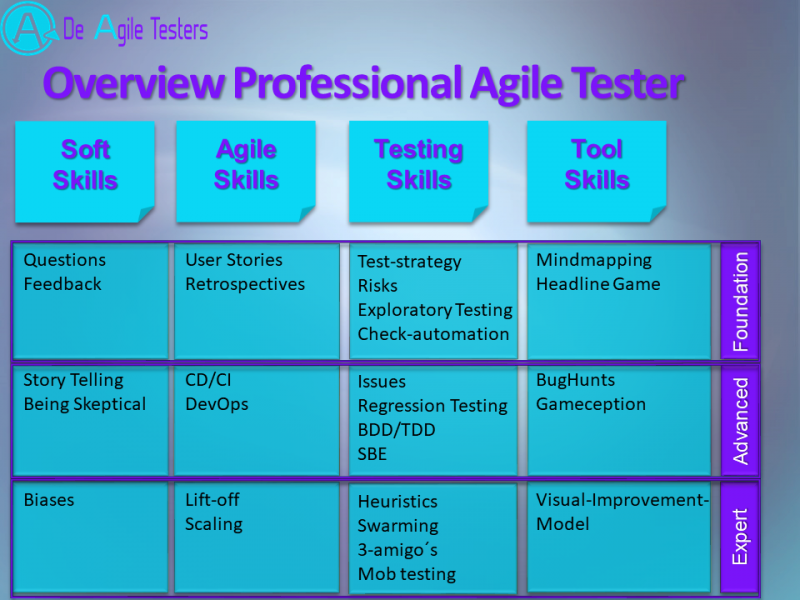 Location and number of participants
The training is provided centrally in the Netherlands. Of course it is also possible to do this in-house at any location you want in the Netherlands. For this you need to register at least 6 participants. The maximum group size is 10 people. In this way, everyone receives sufficient personal attention and there is sufficient time to respond to questions and self-introduced cases.
Cost
3-day Foundation € 1199 per person
2-day Advanced or Expert training: € 799 per person
All training courses include coffee, tea, water and lunch. Prices are exclusive of VAT.
Course dates
In consultation. Do you want more information or do you want to register? Then contact us
To the overview